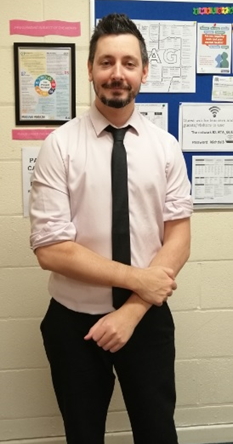 Job Title: Contracts Manager
Apprenticeship: Customer Service Level 2, Admin Level 3, Management Level 5
Lee started his Apprenticeship here at Rochdale Training 17 years ago and has gone from the Apprentice Receptionist to one of the senior leaders. Throughout his time here, he has had many roles and has experienced many parts of the business. From Reception, helping with all IT issues, to coordinating and reporting the data, Rochdale Training must pass on to Government services.
Back when Lee first applied to Rochdale Training it was through the support of his family that solidified his choice of an Apprenticeship, he saw RTA's advert in the paper and decided it would be worth a try to come in and interview. He knew that the Apprenticeship was ideal as he didn't really have an interest in University, but was sure he wanted a qualification. The role at Rochdale Training interested him because he could see the potential opportunities within the training provider with direct access to tutors that would be teaching him on a day-to-day basis.
Lee feels that all his skills have increased due to the Apprenticeship Programmes that he has completed. He's been able to approach any new situation with the skills he's learnt.
Lee has stated that he would recommend the Apprentice programme to anybody, as it has been a brilliant career progression for him. From working in reception to senior manager in the 17 years he's worked here.