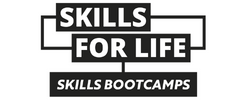 If you're aged 19 and over and looking to change sectors or progress in your current industry, a Skills Bootcamp could be your next step to a better job.

These flexible courses last up to 16 weeks and allow you to gain skills employers are looking for.

You will also have guaranteed a job interview at the end of the course. For most Skills Bootcamps, no previous knowledge of the subject is needed – you just need a good grasp of the English language and the willingness to learn new skills.
Skills Bootcamps are developed in partnership with local employers, providers and authorities to help fill skills gaps and vacancies in local areas.
A Skills Bootcamp could be for you if you are:
looking to progress in your current sector
looking to change jobs or explore a new industry
currently employed or self-employed
unemployed
Skills Bootcamps are designed to be flexible, so you can fit learning around your family or other commitments.
Hundreds of courses are currently available in:
digital skills (such as data engineering, software development or digital marketing)
technical skills (like construction or engineering)
green skills (including electric vehicle and heat pump technology)
Skills Bootcamps courses take place throughout the year, and Skills Bootcamps in HGV Driving will become available in the coming months.
Some Skills Bootcamps may have additional entry requirements, such as previous education levels or sector experience.